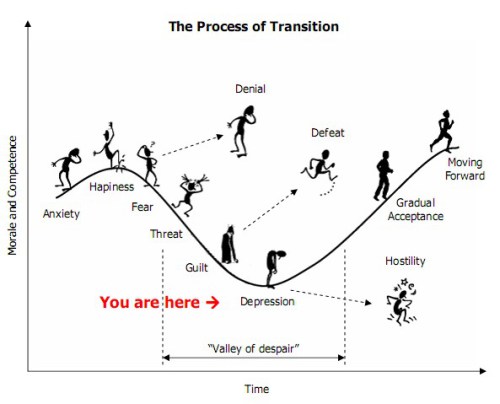 Gray Matter Blog sees the Valley of Despair as the organizational version of the Learning Curve
———————————
The excitement of learning something new, then the really big hill careening towards Depression.
Most organizations don't account for this natural process. Everything is supposed to be "up"  all…the…time.
Or….if they do think about it…they work desperately to avoid it.
My job is to help them work through that transition and not get derailed.
Work through that "Mucky Middle" as someone called it.
That point in any activity where you can't go backwards and you can't see the other shore.
———————————–
In organizations that have had a history of derailments and project failures, it's harder.
There's the natural inclination to "continue doing things the way we've always done it" even through repeated evidence that it doesn't work. Because it is comfortable.
There's the underlying lack of confidence that weaves throughout the organization. An unconscious believe that "things can / will never change"
I start to see that in the freak out over the number of test items with "issues" (um…that's the point of testing. Uncover this stuff now BEFORE we go live in enough time to fix it).
I see it in the lack of prioritization – "BUT WE NEED TO DO ALL OF THE THINGS NAOW!!!!!"
I see it in the expectation of failure – and doing little about it.
I see it in the words being "right" and the actions not happening. And the difficulty pinpointing why.
I see it in the lack of accountability and ownership. At all levels.
I see it in the hope that a consultant will "save" them.
———————————-
I can't save you.
What I CAN do is attempt to create an environment that makes it feel safer to change.
Provides a higher probability of success.
Walks you closer to achieving the goals you have set for yourself and the organization.
But you have to work with me.
You have to be accountable and own the solution.
You have to hold your people accountable.
You have to be willing to have some very uncomfortable conversations amongst yourselves and make some challenging decisions.
You have to be disciplined enough to follow the plan you paid the consultant so dearly for.
The consultant can only guide and cheerlead.  At the end of the day – the journey has to be yours.